HALL PROUDLY PRESENTS LEAGUE1 BC: SEASON 2
League1 BC's second season kicks off on April 29th...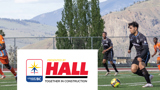 League1 BC's second season kicks off on April 29th with a re-match of the League1 BC Championship Finals on the Men's side as TSS Rovers host Nautsa'mawt FC at Swangard Stadium. The excitement of the day continues with the league's first expansion club, Harbourside FC, hosting their inaugural match day in Nanaimo against Unity FC. The second match day of the opening weekend is a repeat from last season, with Altitude FC traveling to Kamloops to face Rivers FC and Whitecaps FC hosting Highlanders FC in Point Grey.
From a rivalry perspective, the highly anticipated 'Island Derby' between Highlanders FC and Harbourside FC will take place in Nanaimo on May 19th, with the return leg on July 2nd in Victoria. The 'Ironworkers Derby' will see TSS Rovers host Altitude FC on June 11th, and one week later Altitude FC return the favour and play host in North Vancouver on June 18th.
Rivers FC and their closest geographic rival, Unity FC, get set to compete in the first of their match days on May 28th, and Unity FC heads to Kamloops on July 8th for the last of their Home and Away series. The reigning League1 BC Women's Finals Champions, Whitecaps FC, will be formidable once again in 2023, and the club has their Finals re-match against Nautsa'mawt FC at Home on June 11th and Away on Canada Day, July 1st.
The highly contested regular season will reward the individual division champions, as the Regular Season Champion in the Men's Division will be League1 BC's representative into the Canadian Championship in 2024 while the regular season Champion in the Women's Division will be League1 BC's representative at the Women's Inter-Provincial Championships.


INTRODUCING HARBOURSIDE FOOTBALL CLUB
New Nanaimo-Based Club Plays Their First Game April 29th
The Harbourside Football Club is a new addition to League1 BC this season — they are the first expansion club and second one on Vancouver Island.
Harbourside FC's name is inspired by Nanaimo's nickname, "the Harbour City," which also recognizes neighboring harbour communities like Chemainus and Ladysmith to the South, Parksville and Qualicum to the North, and Port Alberni, Ucluelet and Tofino to the West. Harbourside FC will host games at a newly renovated facility at Nanaimo District Secondary School, which the city plans to turn into a "Stadium District" for multiple events and teams over the next few years. The club anticipates a 1,500-seat capacity for year one, eventually expanding to 3,500 seats.
Harbourside FC's Executive Officer, Jason Coates says the leadership group is going to work extremely hard to build competitive teams, while also co-creating a totally unique atmosphere for and with supporters. "Given the rich history of the sport in this area and the youthful energy of a growing region, we want to create a festival like experience during match days," Coates says. "It's also very important to us that Harbourside FC is not exclusively a Nanaimo team, but that neighbouring "Harbour" communities from both sides of the Island feel a sense of ownership toward this club!"
LEAGUE1 BC WELCOMES NAUTSA'MAWT FC
Varsity FC Rebrands Under New Ownership
On January 18th, League1 BC announced the transfer of Ownership of "Varsity FC" with Hope and Health For Life Society becoming the new owners of the League1 BC club's license.
In the spirit of reconciliation, the league is proud to acknowledge the transformation of the club's brand identity and name to become Nautsa'mawt FC. Inspired by the Hul'qum'i'num term, Nautsa'mawt, meaning "One Heart, One Mind", the name embodies a collective journey forward to create and nurture a pathway through sport for Indigenous athletes, coaches, and staff to achieve their greatest potential and dreams. The transformation of the brand was led by Coast Salish artist, Maynard Johnny Jr.
"Nautsa'mawt FC is an exciting opportunity to make real world change, to implement the Truth and Reconciliation Commission's call to action to increase Indigenous representation in the Canadian sport system." said Bill Yoachim, Snuneymuxw Nation Council Member, co-owner of Nautsa'mawt FC. "We hold our hands up to UBC Athletics' high calibre coaches and student athletes for their contributions to our communities through Hope and Health and look forward to elevating further with them as a valuable core of Nautsa'mawt FC. With this in place we are set up for winning on and off the pitch."
The club will partner with former Varsity FC license holders, UBC Athletics, as they will provide support for infrastructure and personnel in 2023 with Nautsa'mawt FC training on the UBC campus and playing their home matches at Thunderbird Stadium, situated on the traditional, ancestral, and unceded territory of the xwməθkwəyə̓m (Musqueam) people.